10 of the best innovative wedding ideas:
Your wedding will most likely be the biggest party that you will ever throw, so make it spectacular with these 10 innovative ideas! These ideas will take your wedding from "a cool wedding" to "wedding of the year"! Most couples main goal is to make their wedding aesthetically pleasing, but making your wedding aesthetically pleasing and FUN is what will truly make it an unforgettable experience. I now present you with not one wedding idea, but ten innovative wedding ideas ways to make your wedding unforgettable.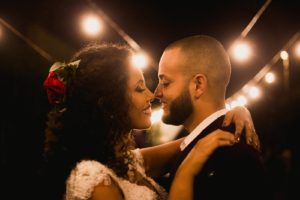 The Last Dance
The last dance is a cute and innovative way to for you and your partner to wrap up the night in style. The grand exit will be a memorable part of your wedding, so pick a send-off song that fits your wedding style, whether that song is upbeat or slow. Pick a song that complements the night perfectly. Some popular last dance songs include: "Last Dance" – Donna Summer, "Closing TIme" – Semisonic, and "(I've Had) The Time of My Life" – Bill Medley.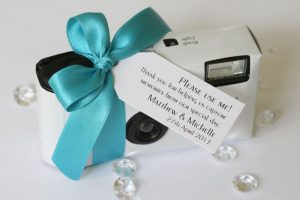 Disposable Cameras
Place a disposable camera at everyone's seat for them to snap awesome candid wedding pictures throughout the night that you can later look back on. This is a fun and affordable wedding idea to capture the happy moments on your special day. At the end of the night, the guests can either put the cameras in a basket for the bride and groom to develop, or guests can take the cameras with them and develop the pictures themselves as a souvenir. This allows you to have photos from the perspective of each of your guests, so you can reminisce about your special day.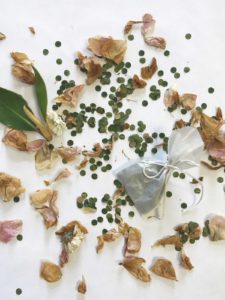 Hole Punch Confetti from Fallen Leaves
This is one of many great innovative wedding ideas that is perfect for fall weddings! Not only is this extremely eco-friendly but it is super cute and rustic. And not to mention it being completely FREE! This is an easy-peasy way to personalize your wedding.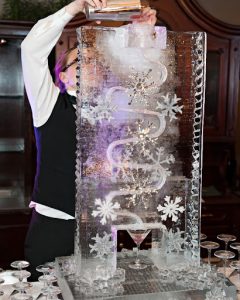 Ice Sculptures
Whether its a customized ice bar with your wedding logo carved into it, a hanging ice sculpture, ice shot glasses or an ice luge. Ice can add that "WOW" factor to your wedding. Here are some of the best Wedding Ice Sculptures.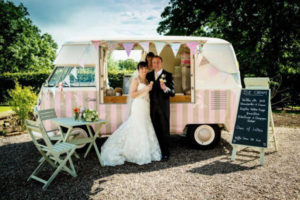 Food Trucks
Food trucks can feed a large crowd quickly and efficiently, and are a perfect and delicious touch to your wedding. You can't go wrong with a food truck, and it is a fun twist to traditional wedding food. Customize your food truck to fit the theme of your wedding, whether you want a retro ice cream truck to fit your 1950's style wedding or a bbq food truck for your backyard wedding.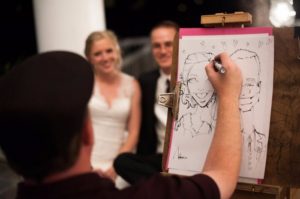 Caricature Artist
Hiring a caricature artist for your reception adds a fun personal touch to your wedding and allows your guests to take home a fun quirky souvenirs.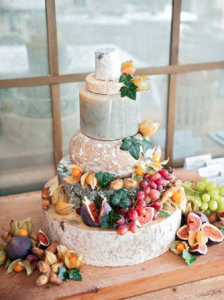 Cheese Cake
Yeah… literally… a cake made of cheese. How cool is that! Instead of having a traditional wedding cake, a cheese cake can be a great wedding idea if you are not necessarily a dessert person. Provide some crackers, and people will be snacking on it all night long in between dance breaks.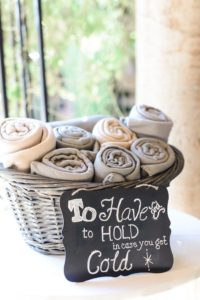 Blanket Basket
The last thing you want is for your guests to feel cold and miserable. Having cozy blankets at your outdoor venue to keep your guests warm is a thoughtful gesture. Your guests will feel warm and snuggly with a ceremony blanket basket! This is a perfect idea for a fall or winter outdoor wedding.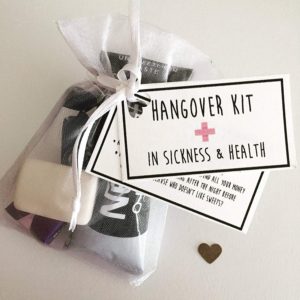 Hangover Kits
Drinks will be flowing at your wedding, and your guests will be partying all night long. Providing your guests with hangover kits at the end of the night are one of many great wedding ideas. Trust me, your guests will be thanking you the next day!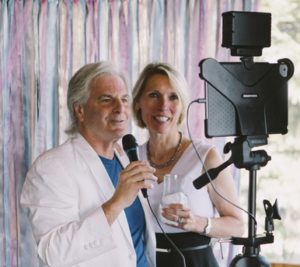 Video Booth
Whether its a drunken ramble from one of your friends, a bridesmaid karaoke session or a heartfelt message from your grandma, video booths allow your guests to give you a personalized message that you can cherish forever.
---

While planning a wedding takes time, effort, and lots of research, it is important that you focus your attention on the big picture and avoid getting caught up in the small wedding ideas and details. Your special day will only be as perfect as you allow it to be so be sure to cherish every moment with your loved ones. Luckily, we can help further simplify the wedding process. Here at Weddings Till Dawn, we can help you find the venue of your dreams, trustworthy vendors and VIP transportation to get you to and from your venue. We will handle every detail of your wedding as requested. We're here so you and your family can be comfortable and at peace as you celebrate your day free of disruptions.