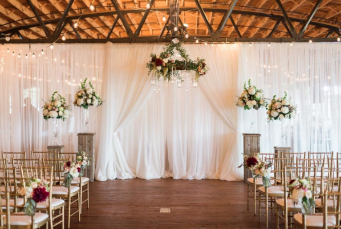 Benefits of Having a Day-Of Wedding Coordinator
A flawless wedding, free of errors and even the slightest complications, is something every bride-to-be envisions. Months of planning and research go into organizing the perfect wedding. From searching for a venue, selecting a color palette, compiling a guest list, ordering wedding invitations, to finding vendors within a fixed budget, planning a wedding is understandably a hassle. Yet, most couples opt out of hiring a wedding planner for two essential reasons: An all-inclusive wedding planner can be expensive, and most couples want total control of every detail that goes into organizing their wedding. But how can a bride possibly enjoy her most important day while ensuring her ceremony runs smoothly? 
Enter the day-of wedding coordinator. What exactly distinguishes a wedding planner from a day-of wedding coordinator? Well, the primary difference lies in its title. While a full service wedding planner does 80-90% of the planning (with your decisions and input), a day-of wedding coordinator will be on-site the day of your ceremony, managing the timeline and details. So, without further explanation, here are the top benefits of hiring a day-of-wedding coordinator. 
The Price
A day-of wedding coordinator is much more affordable than a full service wedding planner. For a day-of wedding coordinator, prices range from $600-$1200 depending on the service and planner's level of experience. How long will the wedding run? Is the wedding ceremony and reception being held at two separate locations? What exactly needs to be set up? These questions often determine the total price. In addition, many planners will provide their services for an hourly rate. Planners who are new to the business will occasionally offer their services at a discount. On the contrary, full service wedding planners often charge clients $1000-$2000, which is once more dependent on the services provided. To conclude, an all-inclusive wedding package is more expensive than the services offered by a day-of wedding coordinator.
The Convenience Provided
Day-of wedding coordination is a service rising in popularity due to its convenience. Day-of wedding coordinators organize every detail of both the wedding ceremony and reception. They are present from the very beginning to the very end, helping set up and clean up the event. Their responsibilities vary depending on the couple's requests, but they work to ensure the wedding is perfectly executed by following the wedding timeline as provided by the couple. They make sure the vendors are working efficiently and wedding transitions run smoothly, among other responsibilities: conducting the wedding rehearsal, aiding the wedding party during their photoshoot, securing all gifts, handling all the tips, and ensuring the wedding details and timeline are properly aligned (grand entrance, first dance, garter toss, toasts etc.). Day-of wedding coordinators will manage every detail, big or small.
The Alleviation Of Wedding Day Stress
A bride's wedding day is described to be the most important day of her life, one she will never forget. But how can a bride enjoy her wedding to the fullest while she serves as both the host and center of the celebration? Day-of wedding coordinators are the solution to this common issue, giving the bride and groom time to enjoy their special day, free of complications. Day-of wedding coordinators do their best to prevent any wedding day hiccups and work to resolve any issues that may arise. The primary goal is to alleviate the inevitable stress that comes with wedding day preparation as the newly-wed couple can celebrate their special day, along with their family and friends who may want to tackle such responsibilities. Day-of wedding coordinators are there to answer all questions and execute any request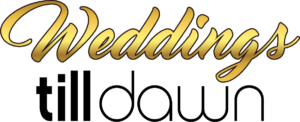 While day-of wedding coordinators can be hired months in advance, they usually do not begin working with the engaged couple until a month prior to the wedding ceremony. During this time, they might contact vendors and other important connections to make sure the details are finalized. They will also execute any last-minute requests as made by the couple. Hiring a day-of wedding coordinator will ensure your special day is the one you have always dreamt of. Here at Weddings Till Dawn, we pride ourselves in providing 100% client satisfaction. We offer full-service planning and a variety of fully customizable wedding packages to meet your needs. From venues and transportation to staffing and catering, Weddings Till Dawn can handle every aspect of your wedding as requested. We can offer a personal event specialist to assist you with wedding preparation, and promise to guarantee a price match. As a vendor coordinator, day-of wedding coordinator, or your full service wedding planner, we are here to ensure your special day is unforgettable